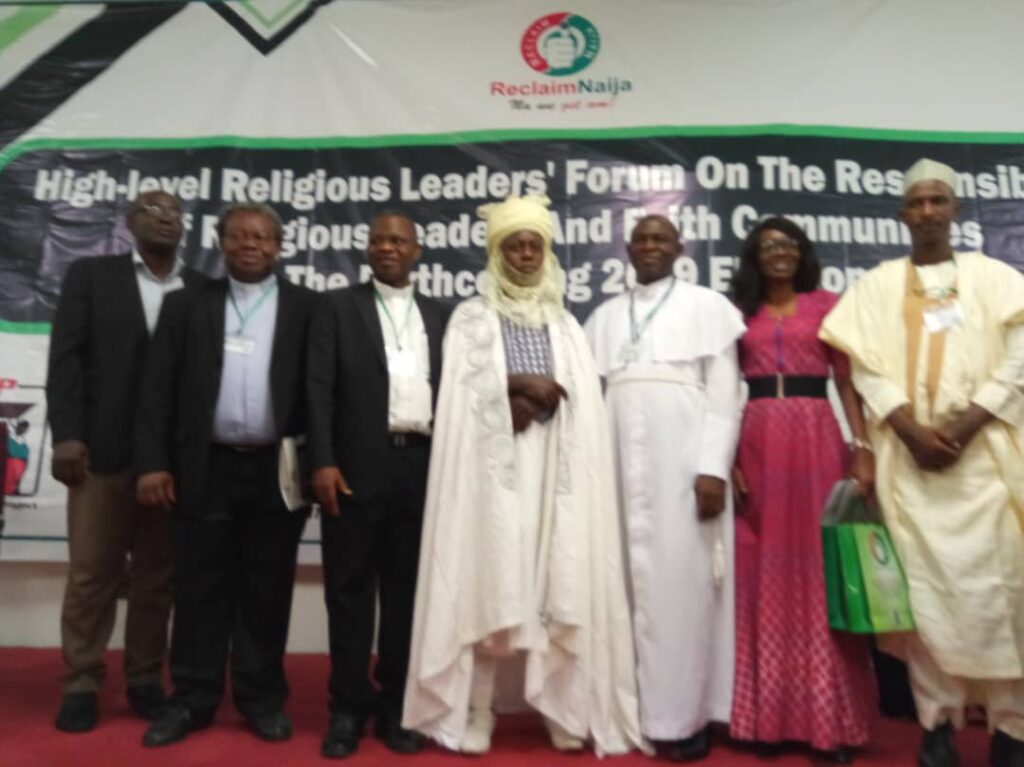 On Wednesday, January 17, 2019, CLP hosted 159 Religious Leaders across the country to discuss the role of Religious Leaders in the 2019 Elections. The Forum stressed the need for Religious Leaders to douse ethno-religious tensions, counter fake news and participate actively in promoting peaceful, free, fair and credible 2019 elections.
In her welcome remarks, the Executive Director of CLP, Ngozi Iwere, stated CLP's strong belief that "the civic space should not abandoned to politicians." She asked what role religious leaders should play: "if politicians are heating up the body polity using divisive language; if rumours and half-truths are being churned out and circulated on social media?" If peaceful, free and fair elections are desirable, should the votes of citizens not count? If elections are rigged, the peoples' votes are sold and bought, does this stealing of votes and election rigging not rob the people of their God-given free will? If the people did not choose, if the votes did not count, if the mandate was stolen, can we say that the candidates that emerged were chosen by God, had God's blessings? Does God now endorse election rigging? How should religious leaders conduct themselves? What is their responsibility towards the country, the citizens, their faith communities and to God, as far as elections are concerned?"
3 papers were presented. These papers focused on the responsibilities of Religious Leaders and practical non-partisan steps for civic and voter engagement by Religious Leaders.
Papers presented include:
The Ethical and Moral Imperative of Free, Credible and Peaceful Elections: Role of Religious Leaders and Faith Communities by Rev. Fr. George Ehusani (Founder, Lux Terra Foundation and former Secretary General, Catholic Secretariat of Nigeria);
Peaceful, free and fair 2019 Elections: The Responsibility of Religious Leaders and Faith Communities by Sheikh Dr. Khalid Aliyu Abubakar (Secretary General, Jama'atu Nasril Islam, JNI)
The Role of Religious Leaders in the Political Process by Prof. (Fr.) Anthony Akinwale (Vice Chancellor, Dominican University, Ibadan).
We also had interventions from 2 Panel Discussants, namely, Dr. Sale Momale (Representative of the Supreme Council for Shari'a, Nigeria) and Very Rev. David Agada (Diocesan Synod Secretary, Methodist Church, Kaduna). The session ended with remarks from His Royal Highness, Hussaini A. Mam, representative of the Ona of Abaji.